ABR Education Block | Need DCE & ECE Credits?
Monday, October 16, 2023 12:00 AM - Tuesday, October 24, 2023 12:00 AM (AKDT)
Description
We are excited to offer our primary and secondary REALTOR® members of the Anchorage Board of REALTORS® (ABR) and Southeast Alaska Board of REALTORS® (SEABR) this education, as a member benefit with the help of our instructors and sponsors!
Register between September 1st and 30th, and this education is offered to you free of charge. The cost is $10 per credit hour after September 30th. Register early to reserve your seat!
To register:
On the Event Calendar, find the date you wish to attend; October 16, 17, 23 or 24. S

elect "Register" on the date.

You may select "Event Sessions" to view the descriptions and instructor of each class or go directly to "Register."

Very important, carefully decide if you will attend in-person or virtually. It is difficult for staff to change the group you wish to attend (virtual or in-person) after you have made your selection.
Select Register and enter the maximum of 1 for quantity to register.

Enter your name. If you have registered for one of our classes before, you may use the search box to find your name.

Select each session you will be attending or if you don't plan to attend a session.
Review the No Show Policy.
Enter Submit.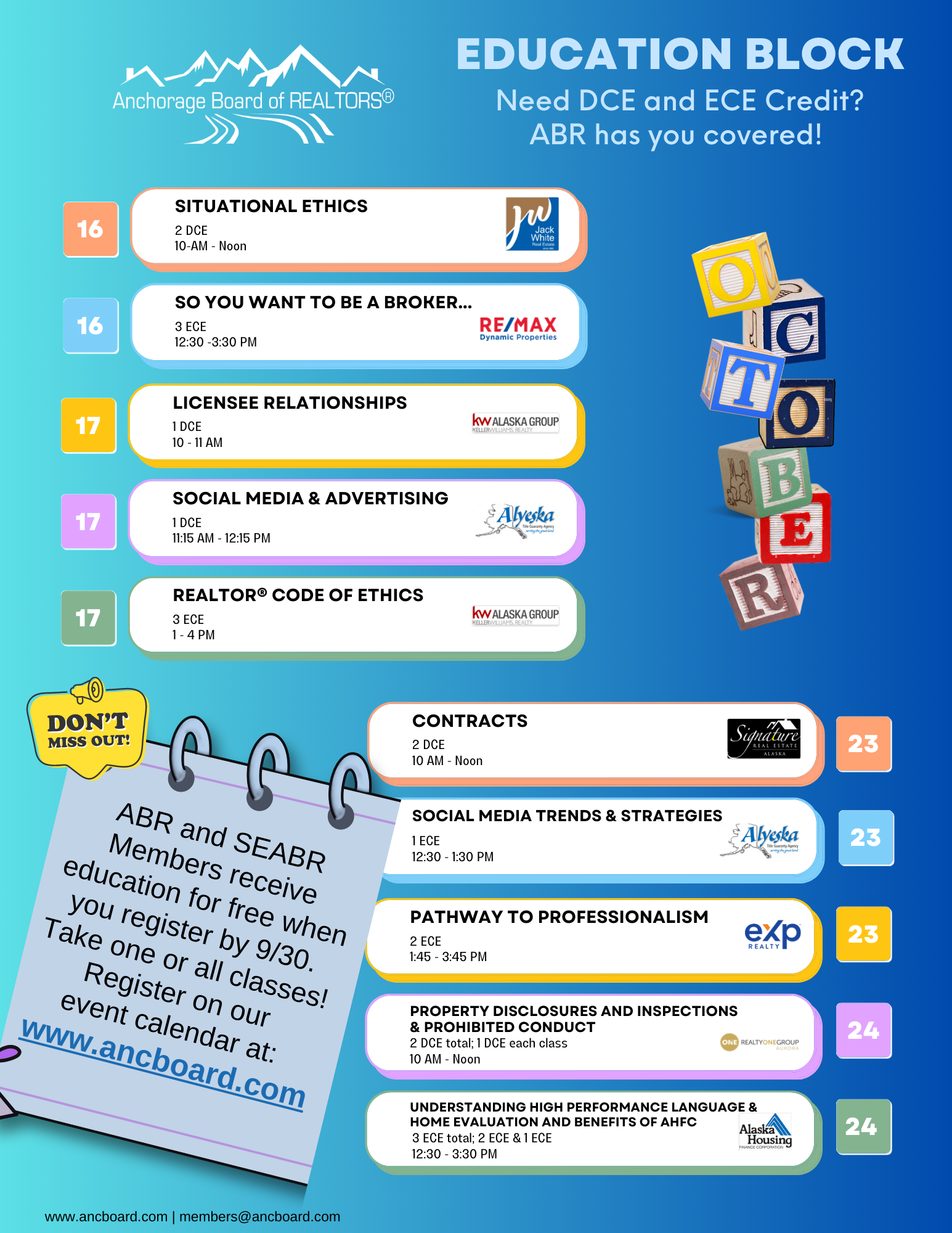 Please plan your education carefully when you register by selecting in-person or virtual classroom education. If you must change your method of attendance, send us an email requesting an adjustment to your registration no later than Noon on Thursday, October 12th. This gives staff time to ensure all attendees receive appropriate materials for the type of in-person or virtual classroom education you are attending.
If space permits:
After October 1st, REALTORS® from other boards may register at the cost of $10 per credit hour. Not a member, join us as a secondary member today to register before September 30th.

Not a member? Apply now.

After October 10th Non-REALTORS® may register at the cost of $15 per credit hour.
Registration closes at Noon on Thursday, October 12th; no adjustments or registrations will be accepted after this time. No exceptions please.
On education day, staff will not be in the office, we'll be at the BP Energy Center with limited access to email and phone. If you must contact us, don't expect a reply for at least 72 hours; email us at members@ancboard.com.
Cancellation policy: Cancellation requests must be received by email no later than October 12th. No refunds will be made for no-shows.
Images
Event Contact
Anchorage Board of REALTORS®
Send Email
Monday, October 16, 2023 12:00 AM - Tuesday, October 24, 2023 12:00 AM (AKDT)
Categories
Education Event
Education for ABR Members
Education for SEABR Members
Education - All REALTORS® Welcome
In-Person Classroom
Virtual Classroom