NAR NXT Up: Sustainable Real Estate – Navigating the Era of Energy-Efficient Homes and the Inflation Reduction Act
Wednesday, September 20, 2023 (9:00 AM - 10:00 AM) (AKDT)
Description
Sustainability and energy efficiency are more than just buzzwords; they are essential considerations for homeowners and real estate professionals alike. Join this month's virtual session, NXT UP: Sustainable Real Estate – Navigating the Era of Energy-Efficient Homes and the Inflation Reduction Act, to stay ahead of the curve and provide unparalleled value to your clients. On Wednesday, Sept. 20, from 9 am Alaska time (noon to 1 p.m. CST), CEO and Co-Founder of Pearl Certification, Cynthia Adams, will explore the latest trends in sustainable real estate, from building code requirements to smart home technology.
Session Highlights:
Learn how smart home technology provides insights into energy performance, leading to greater comfort, lower utility bills and healthier living spaces.

Get actionable strategies for incorporating sustainability and performance considerations into your real estate business processes.

Explore the incentives and rebates offered by the Inflation Reduction Act, designed to motivate homeowners to invest in energy-efficient improvements.
Understand the substantial impact real estate can have on transforming neighborhoods and uplifting communities, offering sustainable and feasible solutions for a better future.
Register now: Meeting Registration - Zoom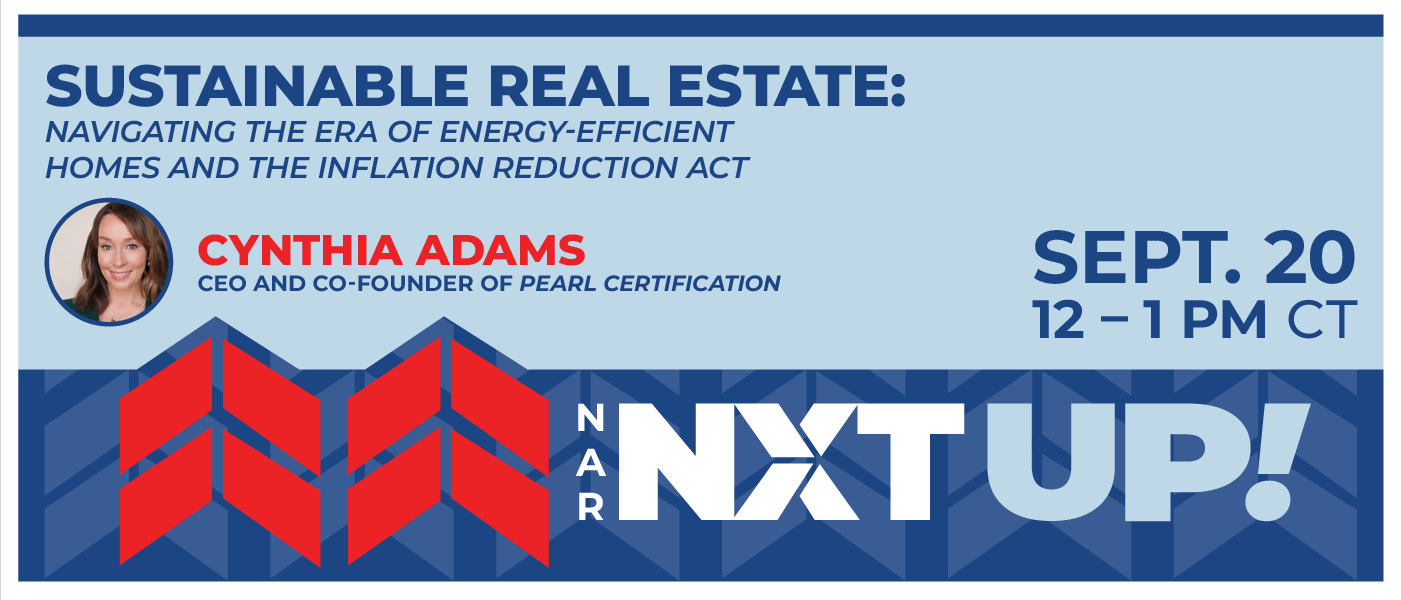 Via Zoom Videoconferencing

Event Contact
National Association of REALTORS®
Wednesday, September 20, 2023 (9:00 AM - 10:00 AM) (AKDT)
Categories
National Association of REALTORS®