REALTOR® Clean Up Day | Team Effort
Friday, May 13, 2022 (10:00 AM - 1:00 PM) (AKDT)
Description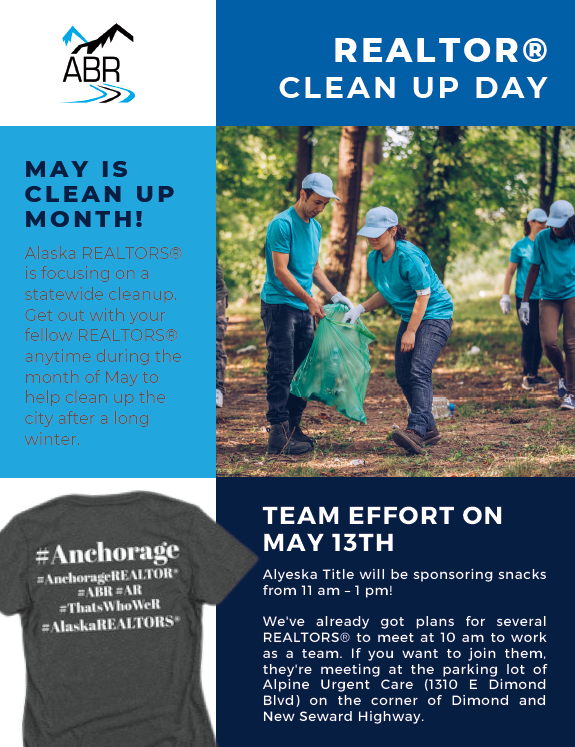 Join us for our team effort at 10 am to work as a team! Meet at the parking lot of Alpine Urgent Care, 1310 E Dimond Blvd on the corner of Dimond and New Seward Highway on Friday, May 13th! For more information please email: kasia@thegirongroup.com
Also on Friday, May 13th, Alyeska Title will be sponsoring snacks at the ABR Office from 11 am - 1 pm. Drop by and say hello!
Our business neighbor, Movin 105.7 is one of the Citywide Cleanup Sponsors. They will have bags available for pick-up and also a dumpster in our parking lot at: 4700 Business Park Blvd Building E.
And why not order a shirt and wear it when you are doing the clean-up, or any acts of service, to remind people that REALTORS® are amazing!!
Order your #ABR #AlaskaREALTORS® t-shirt now at: https://www.bonfire.com/store/alaskarealtors/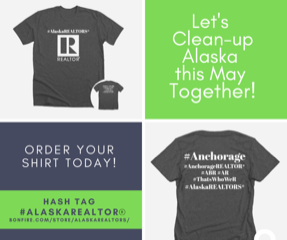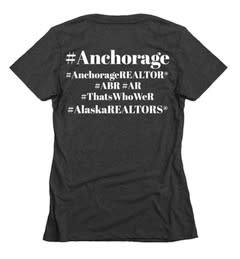 Friday, May 13, 2022 (10:00 AM - 1:00 PM) (AKDT)